Number of heat pumps in Flanders doubles in 4 years time
Number of heat pumps in Flanders doubles in 4 years time
According to the heating plan of the Flemish government, to reach the Flemish targets for green heating in 2020, 8,900 new heating pumps will be needed annually. This is more than the double of the nearly 4,000 heat pumps placed in 2016. An ambitious policy is needed. In a study presented today, VITO/EnergyVille estimates that by 2030 13% of the housing stock in Flanders can be equipped with a heating pump. Howere, this can only be done with the help of a supportive policy.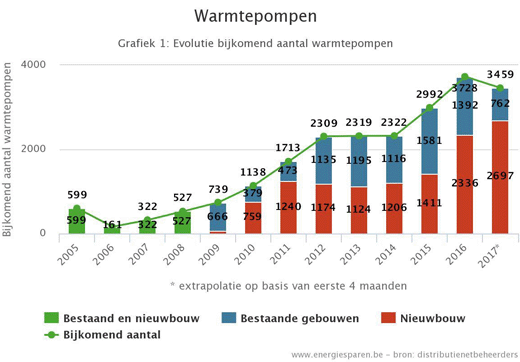 Heat pumps extract renewable environmental heat out of the air or the underground. This makes them of great importance in reaching the energy and climate goals. The heating of buildings makes up for half of the total energy use. Heat pumps are therefore 
the most important key to make our heat provision more sustainable. The Heat Pump Platform of the Organisation of Sustainable Energy (ODE) calls on Flemish Minister of Energy, Bart Tommelein, and Federal Minister of Energy, Marie-Christine Marghem, to boost the transition towards green energy. Bram Claeys, General Director of ODE: "Ambitious measures, like a phase-out plan for heating with fossil fuels and a shift in charging fossil fuels, would make an import difference in the support of green energy. Heat pumps have a big potential in both newly-built houses and renovation. In industrial applications, the energy and CO2 savings are presumably even bigger."

Minister Tommelein states: "Heating has a huge potential as a source of green energy, however until now it is still less known. With my Heating plan, published in the beginning of June, it is my ambition to turn this around. We're currently developing a heating test which helps in choosing the best form of heating for every individual user, we're adjusting the EPB-regulations so that who chooses for renewable energy will be rewarded in doing so, together with the VREG we're looking into how a new tariff structure can stimulate the choice for a heating pump, etc. On January 1st, we've also increased the subsidies for those choosing for a heating pump. The subsidy now amounts to 40 percent of the placement bill."